Contact Name: Biagio D.
Address :
5490 Thimens, Suite 101, Montreal, Quebec, H4R 2K9
Telephone: 514.279.1388 ext. 413
Email: info@i4web.ca
Website: www.i4web.ca
Profession: Web Design and Development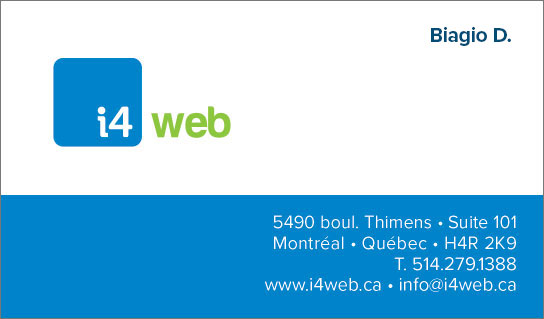 PROFILE
i4web is a Montreal based web design and web development company. We have been in business since 2001 and have worked on hundreds of projects.  We research and implement the latest web design trends and technologies to deliver clean, cutting edge websites.  We create intuitive, graphically appealing, and responsive websites that will effectively communicate your message. If your goal is to provide information, sell products or build a portal, we will provide your visitors with a website that is appealing, user-friendly and informative.  Thinking about building a web site or application?  We have plenty of ideas and examples to show you.
We are a division of i4Technologies, a professional services company providing IT Business Consulting, Managed IT Services, Managed Hosting, Cloud Computing and Hardware & Software Procurement. Our People make the difference & they make technology work. Visit i4t.ca and i4web.ca for more information.