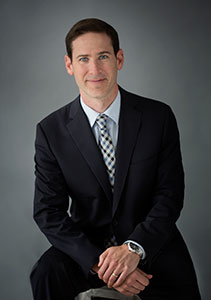 Brad Wise
The Networking Club President
Investment Advisor and Insurance Representative
Manulife Securities Incorporated
9800 Cavendish Suite 200
St Laurent, Qc
H4M 2V9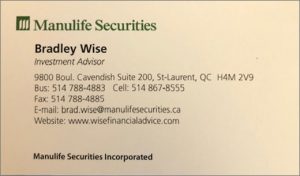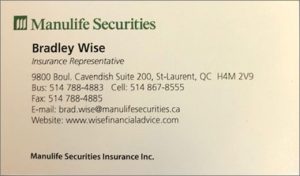 PROFILE
I have been working as an Investment Advisor and Insurance broker since 2002.  I am a fully licensed Investment Advisor who can offer all types of products and services including:
Mutual Funds
Low Cost ETFs
Stocks
GICs
Segregated Funds
High Yield Savings Accounts
Principal Protected Notes
Annuities
RRSP and TFSA
Registered Disability Savings Plan
Retirement Planning
With my experience and knowledge in the industry, I can also find you the insurance products that best suits your needs.  I offer the following insurance products:
Life insurance
Disability insurance
Salary Insurance
Critical illness insurance
Mortgage Insurance
Travel insurance
Health insurance
Group Insurance for Companies
Although I do work at Manulife Securities, we are a brokerage firm so we could place Investments and Insurance  through many companies such as Manulife, RBC, BMO, Desjardins, Canada Life and many others!  This allows us to be objective in our advice and offer our clients the BEST VALUE on the market.
B. Wise with your Investments and Insurance!