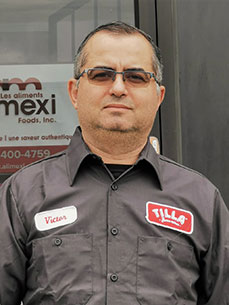 Victor Guerra
ALIMEXI Foods Inc.
709 avenue Meloche
Dorval, QC.
H9P 2S4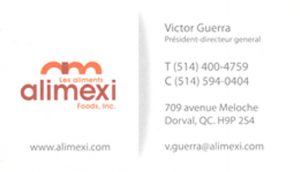 PROFILE
I 'm Victor, co-founder of ALIMEXI Foods, a family owned Quebec company, located in the city of Dorval.
We are proud to be the first and only Quebec's tortillas certified organic under the brand TILLA' Bio.
Our ingredients are LOCAL, plant-based, vegan friendly. And our products are freshly made using Mexican equipment to obtain an authentic artisan flavor. There is nothing similar in quality and taste ! (For more info: https://www.alimexi.com/about)
Together with my wife Liliana, we launched into entrepreneurship in 2016 and began to build ALIMEXI. This adventure has allowed me to apply my experience working for big companies in Mexico and Brazil (such as FEMSA, the largest Coca-Cola bottler in the world and owner of the leader convenience store chain in Mexico; as well as for Heineken and Grupo Lala).
My profesional background comes from fields related to Marketing strategy: Market research and new products development. This implied: Leading successful teams to manage brands and product lines, design brand portfolio strategies, produce consumer & market intelligence, as well as build media, communication, promotional and price strategies to increase business value.
In this new stage as a small business owner, I have learned from many other topics. I am convinced that you never finish learning. And the best way is by listening to others and sharing experiences.
That is why I enjoy helping people and sharing knowledge. On a personal level, I love my family, enjoy nature and riding a motorcycle on a country road!